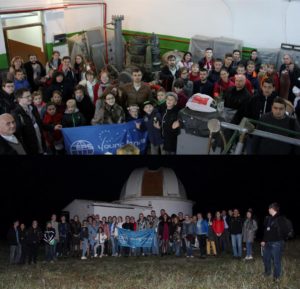 In the middle of autumn, Lviv Young Minds Section both with the Faculty of Physics of the Ivan Franko National University of Lviv organized a science communication event "Day and night physics". Weather conditions forced us to split this event into two parts: "Night physics: astronomical observatory" (October 17, 2017) and "Day physics: Sunday of experiments" (October 22, 2017). We were close to our main purpose – popularization and promotion of science within an audience of different age – than ever.
"Night Physics" is four similar night excursions to the suburban observation station of the Astronomical Observatory of the Ivan Franko National University of Lviv, where participants were briefed on history of the observatory and its equipment, history of astronomical studies in Ukraine, modern world's largest telescopes, most significant discoveries in the last 15 years. The participants were told about the structure of the telescope and observed the night sky (Saturn and Pleiades using the telescope and famous constellations). Each excursion lasted for more than 1 hour. We rented a bus for four groups of visitors. Participation was free of charge and with prior registration. The total number of visitors is aroud 120.
"Day Physics" is an event rich in entertaining experiments and demonstrations. Therefore, visitors could see what physicists are doing in the daytime and try themselves as researchers. The concept of the event was quite simple: 6 areas of physics, respectively, 6 laboratories, parallel sessions, 4 hours. Participation was free of charge and without prior registration.
Laboratory of Radioengineering prepared experiments involving electric spark, a Hall sensor, lasers, electromagnetic induction, investigation of different signals using a computer and a USB oscilloscope.
Laboratory of Low-Temperature Physics demonstrated nanostructures, experiments with liquid nitrogen and helium, the superconductor levitation.
Laboratory of Optics demonstrated diffraction, interference, geometric optics, polarization, luminescence, holography.
Laboratory of Metal Physics showed the Brownian motion, series of experiments concerning pressure changes, how to synthesize a magnetic fluid and control it using electromagnets.
In the Laboratory of Astrophysics, participants made their own star chart, learned how to use it.
Also, the Laboratories of Theoretical Physics and Optics have prepared interactive parts. Theoreticians helped participants to make the pendulum of Capitza, a cloud in a bottle, the easiest analogue of a non-Newtonian and magnetic fluid, etc. Opticians concentrated on different aspects of luminescence, game of light and colorful shadows.
The series of experiments were repeated like sessions in a cinema, according to the schedule. Long demonstrations in the Laboratory of Low-Temperature Physics were repeated 2 times. Interactive parts continued without interruptions. All other laboratories repeated 30-min. demonstrations 5 times.
The total number of visitors is around 350.