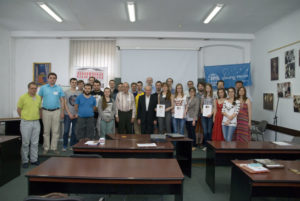 The 17th Workshop and Award for young researchers in the field of statistical physics and condensed matter theory supported by EPS Young Minds Committee was held in Lviv at the Institute for Condensed Matter Physics on June 8–9, 2017. The event was dedicated to the 100th anniversary of Abba Glauberman (1917–1974), a famous Ukrainian physicist who worked in Ivan Franko Lviv State University (1948–1966) and contributed to development of quantum theory of solid state and statistical theory of condensed systems.
Young researchers in statistical physics and condensed matter theory had an opportunity to present their own results during the Workshop as well as compete for the competition prize. This year the reports of participants were particularly striking. Two of them – Olesia Krupnitska and Vasyl' Kharchenko – were awarded for the best presentations by Special Individual Awards. Four other young participants – Tetiana Rokhmanova, Vasyl' Vasyuta, Olha Shchur and Oleksiy Zdorevskiy – were distinguished by the Competition Committee as the most promising ones. In general, 22 young researchers not only from Lviv, but from Sumy, Dnipro, Kyiv, Kharkiv – took part in the event.
Five invited lectures were given during the Workshop. In particular, the well-known Ukrainian physicist Stanislav Vilchynskiy presented his overview devoted to generation and evolution of magnetic fields in the early Universe. A special talk about personal and scientific life of Abba Glauberman was given by Correspondent Member of the NAS of Ukraine Ihor Stasiuk. Volodymyr Ponedilok introduced the audience to the activity of Stefan Banach in Lviv. Two other speakers also presented wonderful lectures on other directions of modern statistical and quantum physics.
Besides the official part, some cultural activities were organized, including city sightseeing excursion and evening beer-party. As usual, the Workshop gave a great chance to young and their more experienced colleagues to get in touch, to discuss interesting topics and to enrich scientific connections in friendly atmosphere.
Members of ICMP Young Minds Section in Lviv familiarized the audience with the section's activities and the general scope of EPS Young Minds Organization.
The photos related to the event can be found on the site of the event:
http://www.icmp.lviv.ua/konkurs/
http://www.icmp.lviv.ua/konkurs/gallery.html