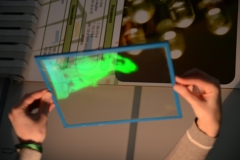 As it is usual in the USC Young Minds Section, spreading optics and photonics through the Spanish educational system is a must. Last grant submission we asked for money to make experiments in the faculty instead of going to the schools. Main advantage of the performance of our activity in the faculty is the ease to make the same experiments than in the schools plus additional ones that cannot be done outside a lab.
The grant requested was for making a duality particle wave experiment. The idea was to make or to build a Ripple tank to explain the behaviour of the waves through a double slit. Unfortunately the total budget requested for the performance of this activity was to high to be supported by the funding of the Student Section. A new point of view was needed to make an interference experiment, which was at the beginning our main idea.
The new proposal was to make holograms in collaboration with one of our University labs. This activity has been done two times during the first semester: first with high capability students (17 in total) and a second one with students from 5th grade (which corresponds with students between 10 and 11 years old, 60 students in total). In combination with the old activities that we usually perform (Fiber optics, Interaction matter-radiation, Polarization, Visual Optics) we perform a new one related with Holograms. Therefore students came to our faculty and made 5 experiments separately.
Previous to the performance of the activity we produce a number of holograms to show it to the students so the main part of the budget was used to buy photographic material to print the hologram. No more material was needed because a holographic experiment is done during the physics grade and therefore we made ours only paying for the spare items so the laser, and optical material was in the lab.
After the fabrication of the holograms we show students how to make it and their properties. By simply using a lamp we show the recovery of the holograms and their characteristics. With this new idea we can explain some features of the interferometric behaviour of optical pulses, which is in fact one of the main points of the optics that we have not implemented yet in our Spreading optics activity.