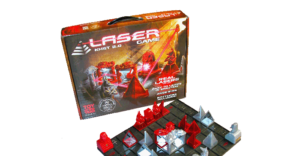 On November 28th 2017 in the evening, our student chapter DTU-Lys held a competition in the board game KHET, which is a complicated form of Chess, but with laser beams. Our student chapter owns 4 of these board games – a perfect number for hosting a competition with both group stages and knock-out rounds! The winner of the tournament was on beforehand promised a DTU-Lys t-shirt, which we had recently acquired a number of for outreach purposes. In total, this evening event numbered around 30 participants, with a good mix of Master students and PhD students.
The evening started out with a 15 min introduction to our student chapter DTU-Lys, who we are, what we have done, and what plan to do. With the event taking place only half a month from our annual meeting and election in December, it was our hope, and plan, to lure in new potential active board members of DTU-Lys. Our current board now counts 4 new members who all participated in this event.
After the introduction, we divided people into four groups who were to play each other in order to decide who advanced from the group-stage and into the knock-out stage. We used chess-clock apps on our phones to make sure that the games did not continue in all eternity (this was an issue in the beginning) and to add an extra stress factor. During the night people had free access to beers and sodas, and after 1½ hour of playing everyone sat down and had pizza together.
All-in-all it was a very fun and social evening, and many of the participants urged us to organize a similar event in the spring 2018 – which we will certainly do!