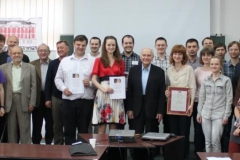 In the end of January Lviv Young Minds Section received an EPS Activity Grant  for part of organization of the XVI Workshop and Award for young researchers in the field of statistical physics and condensed matter theory. This event was both with the Council of Young Scientists of ICMP and was held in Lviv at the Institute for Condensed Matter Physics on June 9–10, 2016.
The aim of the event is to promote the studies of young researchers in statistical physics and condensed matter theory as well as to establish connections among young scientists from different research centers of Ukraine.
This year participants of the workshop had a great opportunity to listen to invited lectures of five top experts in statistical physics and condensed matter theory from Ukrainian and Polish scientific institutions. 21 short communications of young researchers and 4 contributed talks of the Award applicants from various research centers in Kiev, Odessa, Dnipropetrovsk and Lviv were presented during two days of the event. As a result 3 awards for best short communications and one Special Award for contributed talk found their owners according to the findings of the Competition Committee.
The full list of photos from the event is on the web-page of the Workshop http://www.icmp.lviv.ua/konkurs/gallery.html
Participants from other cities were highly interested in activities of Young Minds. We still keep in touch so hopefully some of them will apply to YM to create their YM Sections.