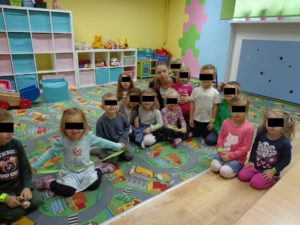 Within our formed WrUT EPS Young Minds section all of our members have the experience in the outreach field. We have been very successful in that area in the OSA & SPIE student chapters, that is why we wanted to introduce these kind of activity in the newly form section.
This project was a big success. There wasn't any problem in changing the scope of our lectures from optics to basic physics. For children in primary school and especially in preschool every scientific presentation is a lot of fun. It also brings to them an inspiration to thinking about the experiment, its result and asking question. As from our observation these children who cannot ask any question react in a special way, on their face you can see at the beginning surprise with disbelief, after that they want to repeat the experiment by their own. When they finally convince their self that experiment show true result they have more curiosity to see and experience another demonstration, which is one of our goal to increase the interest of our physical world.
We carried out demonstrations in one of the biggest kindergarten connected with the primary school in Wroclaw, Poland. The number of attendees where around 80 children (4 groups with around 20 children in each). Our presentation was divided for parts related with air, water, light and balance. At the end some of the children wanted to bring few experiments back again to demonstration, because of their high attraction, so we combined the topics.
In our opinion this project was a success. We increased the children's curiosity of the physical world, their also trained the ability to perform some of the experiments by their own. The challenge of searching discussed phenomena in their surrounding world went also well. We had a bit of problems with the team work, because all the kids wanted to do the experiment at one time, but for us it was an opportunity to gain some teaching experience. We don't see any problem to repeat such project in the future if our members will bring the will to do so.