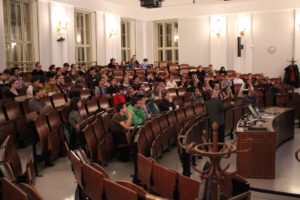 The Students Meeting at the Start of the Semester took place for the fourth time and is beginning to have the status of an established event at the Faculty of Nuclear Sciences and Physical Engineering (FNSPE). This was mirrored by the high attendance of almost 70 people which increased again, compared to the previous semester. As usual, we invited a high-profile speaker in the Czech Republic to give a talk at our university. This time, because of the recent Nobel Prize in the field, we invited Prof. Jiri Podolsky from Charles University to speak about gravitational waves which is the main topic of his research.
The event was advertised in a timely manner on our increasingly popular Facebook profile, on our web pages, and in the form of posters in several buildings of Czech Technical University and Charles University. Students and faculty from several universities came and enjoyed coffee and tea before the lecture and then attended the presentation. During the subsequent discussion, which is in our opinion the most important part of the event, they enjoyed refreshments organized by us. During the event, we also advertised other activities organized by the Prague EPS YM section.
This event was generally rated as a good idea. The large attendance makes this the most popular single event organized by our EPS YM section and was achieved mainly thanks to the large number of posters that were distributed at the university campuses in Prague. The meeting presents a unique networking opportunity that can connect faculty and students of different ages and from different universities. In addition, such an event can be interesting for the public as well. All these reasons accentuate the need of such high-profile talks at our university.