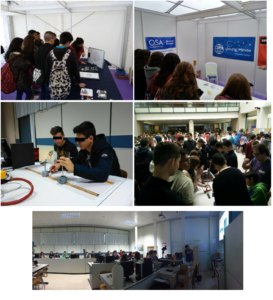 Optical Workshop:
Each year University Jaume I (UJI) of Castellón celebrates the days of dissemination called "Connecta amb la Ciència" (means "Connect with the Science"). These days have the objective of publicize the courses and degrees offered by the scientific area of the UJI. People (teachers, postdocs, students…) working in several areas from the university go to many places around the region of Castellón and offer workshops about chemistry, videogames, optics and photonics, renewable energies, etc. and many high school students attend these workshops.
Taking advantage of the conference "Connecta amb la Ciència" the GOC members have travelled through different towns of the province to bring science to high school students.
We have prepared several micro workshops to show different physical properties and concepts related to optics (atmospheric scattering, refraction, diffraction on a CD, light absorption, polarization…) and also explain how works the human eye. In this way, students from all region have the opportunity to learn science by having fun.
We showed these workshops in 2014 and 2015 and teachers from different high schools requested our workshops also for this year 2016 because the students enjoyed them. This year we have visited three towns, Teruel (9/11/2016), Villarreal (24/11/2016) and Sagunto (29/11/2016). We have some new material for improve our explanations, as for example fluorescent sheets and UV lasers. This activity reached up to 200 students from several places.
First contact with the university:
The second week of January we offered to students in last high school year several seminars. Firstly, we started the sessions with the presentation of our group GOC and our ongoing and future activities. After we showed them some light properties, they made a practical activity related with diffraction to guess if they have a DVD or a CD.
FIRUJI-CIENCIA:
On May took place an activity developed by UJI called FIRUJICIÈNCIA where students from high school and university had the chance to see science demonstrations in different stands. There we showed them some characteristics of light and its application. We explained polarization by using two polarizers and allowing the students to cross them or to move them freely. We made a photoelasticity demonstration, with two crossed polarizers, we told them to add a transparent medium between both and they could see the effect of the material on light. They could also see refraction and reflection, with a glass of water and a coin we explained them the phenomenon of the total internal reflection and the critical angle. We cloaked the coin while it was under the glass, in air, and show them how depending on the angle of observation you can see it or not. Diffraction demonstration were also developed, we used diffraction gratings and lasers of different wavelength to make clear the dependence of the angle of the diffraction orders with that parameter. We had a model of the human eye and lenses to simulate image formation and to let them see the effect of myopia and hyperopia and how to correct them using lenses.