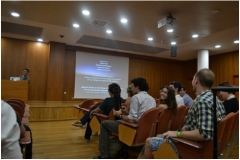 In order to disseminate the science of optics and photonics within the International Year of Light 2015, we have developed a documentary in collaboration with Vector Productions.
The documentary focuses on the history of optics in Spain from the first treaties in the Arab world to state of the art research today.
The documentary was filmed in Murcia, a Mediterranean city in southeastern Spanish. It explains issues such as reflection, refraction, diffraction, wave-particle duality and some properties of lasers. It speaks, in an accessible form, on where we can find the light based technologies in our daily lives, to bring all public the importance of light in our technological development. The documentary also contains an interview with Dr. Pablo Artal, director and founder of the Research Centre in Optics and Nanophysics at the University of Murcia. He talks about his visual simulator, how they are able to perform measurements that help us better understand the fundamental dynamics of the eye and that will, in the future, improve aspects such as refractive cataract surgery.
The documentary was developed for projection on schools, colleges, universities, conferences… It was recently premiered at Valencia IONS congress, held during the 24th, 25th and 26th September, a conference organized by the University Jaume I Young Minds Section and co-financed by EPS. In December it will be screened in Granada, at "Desgranando Ciencia", a national event dedicated to the dissemination of science in all fields. In the following months, we will be projecting the documentary in our University, in several schools in Castellón, etc.
From January 2016 the documentary will be free and it will be available online for download so that any teacher can download it and show it to their students at school or university.
Here there is a picture that we took after its projection at Valencia IONS congress.