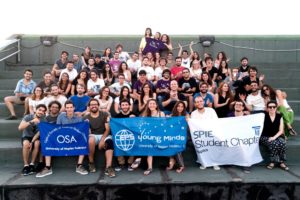 On the 23rd of June PONYS Physics & Optics Naples Young Students organized a fundraising event for the association Sunshine4Palestine. The event had two moments: a talk held by Dr. Barbara Capone from "Roma Tre" University with the title "Physics for sustainable development" and a concert on Physics Department Roof-top performed by "Roof-ini's quintet".
The theme of the talk, Physics for sustainable development, was very interesting: Dr. Barbara Capone told us Sunshine4Palestine projects. One of the most important was "Jenin Hospital Project": this project implies the construction and installation of a photovoltaic power generating plant on the roof of the Jenin Charitable Hospital in Gaza. The plant has been specifically designed to cover the energy needs for the entire hospital, and to include storage energy components for emergency purposes.
Some of these projects was consisted with our activities, as, Scientific Divulgation. In collaboration with students from the Applied Science College of the Al-Aqsa University in Gaza, Sunshine4Palestine association will give rise to the first scientific divulgation project in the Gaza Strip. Many small experiments will be conducted, and some groups will work on projects to make the first pieces of what will become the first Science Museum in Gaza. After the talk, The event continued on Physics Department Roof, where the Roof-ini's quintet's perfomance entertained the audience and we organized the fundraiser moment for sustain Sunshine4Palestine.
Listening to how you can make your skills available by a scientist to help others has been a great stimulus and exciting for us!