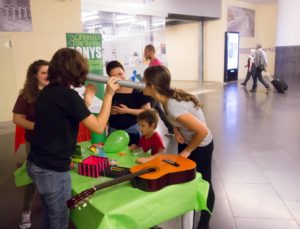 On September 29th, for the second time PONYS joined the European Researchers' Night (ERN) 2017 by participating to an outreach event in Naples. The main organizer was Frascati Scienza, who managed the events in more than 10 cities of Italy.
The event we joined has been organized in the Municipio Metro Station thanks to the network with the Section of Naples of the Istituto Nazionale di Fisica Nucleare (INFN) and the Azienda Napoletana Mobilità (ANM), the local public transport company.
For the second time, we chose a daily life place, in order to reach a higher number of people and talk with them about science. Everyone who had to take or took the metro, made a stop to the PONYS exhibit, where they have been involved in easy scientific demonstration. In each exhibit, PONYS volunteers showed scientific experiments with everyday material: a lamp, a guitar and microwave oven turned out to be useful in explaining the fundamentals laws of optics and acoustics, with common examples.
Ponys' exhibits weren't the only attraction of the ERN in Naples. Actually, the Metro station itself is a touristic place, since the building is very ancient and it is well integrated with the archeological ruins found during the construction of the metro and also with the walls of one of the most ancient castle, called Maschio Angioino which stands out against the square. Thanks to the INFN-Section of Naples, one of the lateral facade of the Castel, was animated with a projection of short science video. In order to facilitate the communication with people, the short videotape was composed by cartoon bubbles, which describe many physics and optics applications. It has been a fundamental experience of professional growth for PONYS. We had the chance to join one of the most important scientific event in Europe. But the most enthusiastic experience has been our relation with our people and city: it was great being in one of the most ancient and famous place of Naples, sharing physics!
Thanks to all our partners.