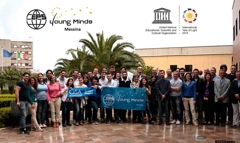 Light is life. Light is fundamental for many biological processes. It is involved in a huge quantity of technological applications, which make our daily life simpler. Nevertheless the awareness of the important role played by light lies in shadows for most of the average people. In Physics, the double (wave-particle) nature of light is one of the most fascinating aspects, which engaged the attention of the scientific community for more than a century. In order to celebrate the International Year of Light (IYL2015) the Messina YM Section organized different activities. They can be grouped into two main categories: seminars and outreach. The former was mostly addressed to students from bachelor to Ph.D. level, while the main target of the latter was stimulating interest in Light, and more in general in Physics, among undergraduate students and children.
Light seminars were organized with the help of the "Appunti di Fisica" group in Messina. They ranged from astronomy and basic concepts to the most useful applications involving light. The following is the list of the events proposed to the scientific community:
The birth of Light: a brief story on the visible Universe (C. Cecchi-Pestellini – INAF Palermo)
The laser calibration system of the muon g-2 experiment at Fermilab (A. Anastasi – YM Messina member)
Light in Chemistry (S. Campagna – University of Messina)
Sun as renewable energy source (G. Gambadoro – University of Messina)
Quantum Light-Matter interactions (S. Savasta, L. Garziano – University of Messina)
Light trapping in a 2D-fractal system (B. Fazio – CNR IPCF Messina)
The invisible light: An industrial application of infrared microscopy (S. Patanè – University of Messina)
One-day workshop on Light (6 speakers – appuntidifisicamessina)
After each seminar a coffee break was offered by our section to the participants, also to stimulate further discussions and promoting YM section activities.
Regarding the Outreach activities our main target was to arise high school students' interest on the physical nature of light, by diffusing knowledge from the basic principles of electromagnetism to some of the many possible applications. We managed to do it by means of demonstrative experiments in which light was the main character. We met students in high schools or in the university locals. During these events we performed different experiments, such as interference with laser, diffusion of light through prisms and so on. In these activities students had the opportunity to play with hands in the experiments, handling polarizers, lenses and prisms. We think that this approach is the most effective to get involved students with physics.
By collaborating with a local environmental group ("Fare Verde"), we also took part to European Solar Days, a project finalized to raise the awareness of the importance of the solar energy among people and especially children. For this reason we organized a demonstration of devices and toys working with solar energy in the main square of Messina.