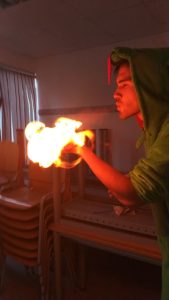 'The Sound of Physics' show has been brought on stage several times over the year. It has been used to present properties of waves, such as frequency, amplitude, and even an introduction to harmonics, to general public. The community has reacted well to this initiative, granting us a good amount of audience in each performance and positive feedback after it. The first show of the year took place at the high school 'La Salle' in Palencia for 200 hundred students on January 27th. Also, an adapted version of the show was performed during the international event 'Pint of Science' (May 15-17th) for a total audience of 380 people at the bar 'Pigiama' in Valladolid. Moreover, this show was selected to participate in the finals of the international contest 'Ciencia en Acción 2017 on October 7-8th, where 1000 people could enjoy an adapted workshop.
The workshop 'Game of Physics' has always been one of the signature initiatives of this section. Like several years before, this show covers a huge spectrum of the whole Physics, and new experiments are being constantly added to it to enrich the experience. Numerous schools keep signing up to participate in this activity, which has been organized three times along the year. Firstly, on April 20-21th, during the University of Valladolid 'open doors week' for 200 high school students. Secondly, on September 29th at the Valladolid Science Museum for the European Researchers Night with 600 visitors and impact on regional TV. Finally, on November 13th during the Science Week with 200 high school students.
As the previous year, 'Scary Physics' was carried out at the medieval Castle in Portillo. The script has been rewritten and renewed for this amazing theatre. It had also to be readapted to fit open air and light conditions, at the sunset and night, including new experiments. The two performances gathered 200 attendants, who gave us a great feedback.
The workshops 'Movie Physics' were carried out on June 24th for the National Mathematics Olympiad. 65 students participated and observed some real-life special effects and the physical phenomena that make them possible.
'Superpoderes… ¿o física?' ('The Power of Physics') was performed on October 5th at the 'University day' of University of Valladolid. It took place at the Main Square of Valladolid for 100 people. The audience could learn how to use several physical principles to emulate seemingly inhuman feats.
The elementary school 'Miguel Hernández' welcomed the workshop 'A Pirates' World' on June 15th for 200 elementary students. They dealt with some basic physical concepts with some simple explanations in an animated context.
Aside from this, the association has also organized workshops with some selected interactive experiments for the following institutions (audience: 90 people): 'Universidad Permanente Millán Santos', 'Scouts', and 'Aspaym' (association of disabled people).
To finish the year, one more performance of 'Superpoderes… ¿o física?' is planned for December 27th in Herrera de Pisuerga.