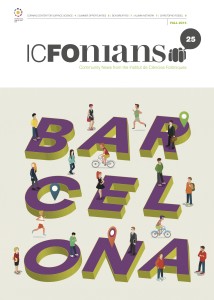 During the 5th YM Leadership Meeting the EPS president, Dr. Christophe Rossel was interviewed by the "ICFONIANS", the community news from ICFO –  The Institute of Photonic Sciences.
I am very happy about our EPS Young Minds which aims to increase the visibility of EPS among university physics students and also help young scientists to engage in outreach activity in their community.
What role do Young Minds (YM) play at EPS?
They are the future of our society; many of today's stu- dents will be the professors of tomorrow and hopefully members of EPS! The networking that we can offer them is very important via workshops or conferences where they can meet senior scientists, and also learn to share their ideas and communicate. The YMs Program is a great opportunity for developing teamwork, crea- tivity and technical skills, communication, and research management. Today there are 34 sections in 19 coun- tries with over 500 members. The role of the EPS YMs is clearly outreach. Young people find it easier to lis- ten to other young people with similar concerns and to share their knowledge with family, friends and kids at school. YM helps to advise and search for young talents.
Read the complete interview here!