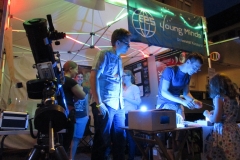 As a special event for the International Year of Light the Konstanz jDPG-YM Section organized an information booth on the yearly cross-border night flea market Konstanz/Kreuzlingen. The goal was to inform a broad public about the fundamental physics on which every day technology like LCD displays or fiber optical communication is based. To help the visitors understand these phenomena we build several hands- on experiments including a simple spectrometer, a RGB-LED color mixer, a water beam as light guide and an LCD-display partly without polarizer. Accompanying every experiment we also prepared an information sheet explaining it in a simple way. Beside these experiments we cooperated with the young chemists forum (JCF) Konstanz and the astronomical community at the University of Konstanz (AIGUK) who also prepared experiments to explain every day phenomena like chemo luminescence or the spectrum of the sun.
Especially at night we gained a large interest by an eye-catching illumination of the experiments itself and the booth. Since the booth was directly aside the main road but not on it, there was a steady flow of interested visitors but also the possibility to have detailed discussions with the guests. The busiest time turned out to be early Saturday evening between 9pm and 1am. Because of bad weather (thunderstorm) most flea market visitors left around 1am and we decided to close the booth for the night. On Sunday, the main attraction of our booth changed from the well illuminated experiments on LCD-displays and optical fibers to a telescope for sun observation from AIGUK. It was placed on the path in front of our booth and guided the visitors to the other experiments.
Overall we got a lot of positive feedback from the visitors, who often had never thought about the basic principles of the technology they use in everyday life before. The total number of visitors we had a conversation with and to whom we explained our experiments lies approximately between 200-300 people.