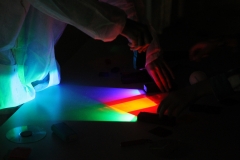 The EPS Young Minds Madrid organized and participated to the outreach activities of the workshop "Discovering Light", where the properties of light are explained by means of interactive workshops. The workshops consist on one of optical and fiber communications, other of fluorescence, ray tracing with phenomena of refraction and reflection, visual optics and color. This interactive activity has been presented to the public in three different occasions and locations:
As part of the International Year of Light activities, on Saturday, October 31st, EPS Young Minds Madrid, with the collaboration of IOSA, presented Discovering Light at La Casa Encendida, a social/cultural center in Madrid. Children aged 8 to 12 years old, as well as their families, attended to at least seven workshops, including educational demonstrations and interactive activities. In addition to the workshops of optical communications, fluorescence, ray tracing, visual optics and color, we also had some optics-based games and tricks to show to the children, such as capture your own shadow on the wall using phosphorescent paint, a 'water-drop' microscope, and holographic tricks. We also had thermal imaging cameras courtesy of Alava Ingenieros.
As the activity fell on Halloween, we dressed up as mad scientists. Many of the attendees were also dressed up in spooky Halloween costumes.
A total of around seventy persons attended to the event.
During the Spanish Week of Science, on November 12th, outreach activities for children were held at the Institute of Optics of CSIC (Madrid). Around twenty children had the chance to prove themselves with workshops in basic optics, optical communication and fluorescence, with the tricky laser puzzle and the amazing laser maze.
On 19th and 20th of November IOSA/EPS Young Minds Madrid had the opportunity to collaborate with the programme developed by CSIC: "Ciudad Ciencia". Ciudad Ciencia ("Science City", http://www.ciudadciencia.es/) is a programme aimed to bring first hand scientific outreach to Spanish localities far from big urban centers and universities, this time in the Canary island of La Palma, at Los Llanos de Aridane (Santa Cruz de Tenerife). The "Discovering Light" workshops were held there for more than a hundred primary school children and for the general public. People of all ages had the chance to have a practical experience with color, vision, ray tracing, fluorescence and optical communications. This event was recorded by the local press on El Diario.
All the EPS Young Minds Madrid members participated to the organization and were then involved directly in the activities, with what we consider great benefits for our personal experience. We measured ourselves with the organization/management of events and with the contact with the public, which resulted in an enriching positive experience, especially with children (in total more than two hundred), with whom we tried to share our enthusiasm for science.
Since the experience was stimulating and well received by the attendees, EPS Young Minds Madrid will continue with the organization of similar activities and hopefully the planning of new ones.