In 2017, as a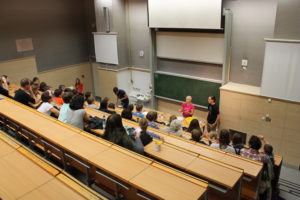 lways we organised Researcher's Night for the physics institution of Eötvös Loránd University. This event is held nation-wide and takes place in several universities, museums and research institutes. It's main goal is to educate mostly children, or anybody visiting in a fun, yet informative way to show them interesting aspects of science that they most likely won't see in school.
The event started mid-afternoon. Visitors could choose from numerous different themes of physics, we had five desks full of various experiments. The themes of these were mechanics, hydrodinamics, electricity, optics and thermodinamics. Parts of the experiments were especially interesting for the younger audience, since they could touch new materials or hold unfamiliar tools and also for teenagers and adults. We purchased varied tools from the grant, such as prisms and lasers, which all were highly popular among the guests. The more dangerous things were handled by demonstrators, who were students at the university.
The other major section of the night were the lectures. These were designed to be clear and interesting, suitable both for young children and their parents. One was held by a university student, the vice president of BYMS. He talked about the structure of the universe. Our other lecturer was an associate professor at our physics institution. He presented the Big Bang Theory, the quark-gluon plasma and the experiments currently going on in CERN.
A few people from different research institutes were visiting us to see the event. Since they all liked our program, it is very likely we will be able to work together with them in the following years to make the event bigger.
You can find more pictures in:
https://1drv.ms/f/s!AnNl0GK68LZFkU9sL54mtxNCyTac